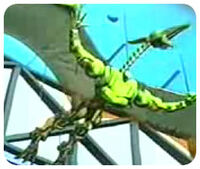 "Dino Ptera, power of the Ancients! Ptera Bristle Boomerang! Dino Knight, ready!"

As one of a few female Dino Knights, Dino Ptera serves as aerial recon for the Dino Knights. She attacks with the Ptera Bristle Boomerang. Her pterosaur form is a Pterodactyl.
Dinozaurs TV SeriesEdit
She was revived along with the other Dino Knights when the Dragozaurs returned to Earth (The Dino Knights Revived).
DZ-5 Dino Ptera

Accessories: Ptera Bristle Boomerang
Ptera transforms from a skeleton of a pterodactyl to Xena in skeleton armor. What's not to love?
External links
Edit