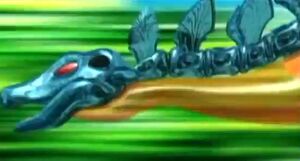 "Dino Kenty, power of the Ancients! Kenty Skeletal Drill! Dino Knight, ready!"
Dino Kenty (Drillsaurus) is one of the Dino Weapons
Dino Kenty's dinosaur form is a Kentrosaurus and his Dino Weapon mode is the   Kenty Skeletal Drill  . His drill form is first used by Dino Brachio and later used by Dino Stego.
External links
Edit